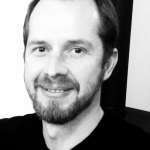 Scott Blinman
Software Engineer . Software Designer .  Founder . Consultant
Hello.
I'm a freelance software engineer based in Christchurch, New Zealand. I have spent over 20 years designing and building software for large companies, small businesses and startups.
Software development is my life passion and I enjoy every aspect of the process. My method involves a strong focus on collaboration with all players in the project. Working closely with business, graphic design, artists, marketing and end users to produce a product that meets everyone's expectations with a high level of integrity. 
Currently.
Working with BC Group on document management and back-office administration.
Working with the Centre of Assessment and Monitoring on data and statistical analysis, document management and online reporting.
Working with Heart of Yoga on Web site design and development, mobile App development, digital publishing and marketing.
Co-founder of Veggie Gardener NZ.
Previously.
I have been fortunate to work with some great people and businesses on a wide range of projects.
Personal.
I live by the sea in Ōtautahi's North Beach suburbs with my partner and our two kids, where we enjoy catching waves in the summer, gardening, yoga, playing music, learning Te Reo Māori and staring wide-eyed at the natural beauty of Aotearoa.